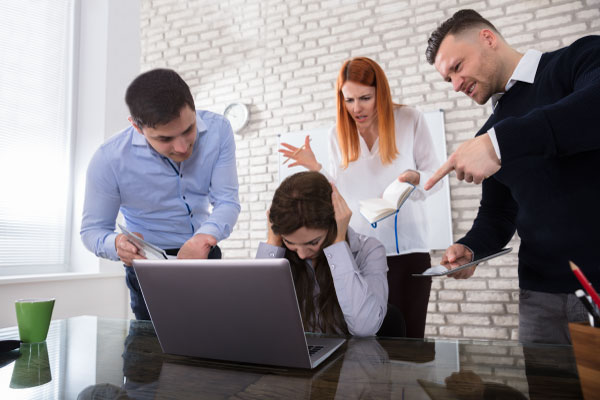 Sexual Harassment has been all over the headlines.
Most of the cases have dealt with overt aggressive physical acts or requests for favors.  There is another form of sexual harassment that has not received as much attention, an offensive work environment.
This is equally illegal and intolerable.  Harassment is bad business as it leads to poor teamwork, lack of communication and lower productivity.
Every leader and human resources representative should be on guard to ensure their organizations are free from such situations.  It is imperative that management react if and when they suspect such a situation occurs.
What is a Hostile Work Environment?
A hostile work environment is created by a boss or coworker(s) whose actions, communication or behavior based on gender, race, nationality, religion, disability, sexual orientation, age or other legally protected characteristics unreasonably interfere with an employee's work performance or make doing their job impossible.
The EEOC definition is that harassment becomes unlawful where 1) enduring the offensive conduct becomes a condition of continued employment, or 2) the conduct is severe or pervasive enough to create a work environment that a reasonable person would consider intimidating, hostile, or abusive.
There is a difference between inappropriate, rude and obnoxious behavior and a hostile environment.  To be a hostile environment, the behavior must be:
Directed at a protected class, i.e. gender, race, nationality, religion, disability, sexual orientation, age or other legally protected characteristics.
Pervasive.  Individual incidents however should be reported and investigated.
Continues over time, not investigated and/or allowed to continue.
Severe.  This requires either impacting the individual's ability to perform their job functions or affecting their ability for future promotions/progressions.
In evaluating each of these requirements, the standard is what or how a "reasonable" person would react if put in a similar situation.
What Steps Do You Need to Take?
If an employee officially complains, unofficially complains or if management just observes questionable conduct, the initial key step is to investigate.
A record of actions should be initiated and all facts documented.
Company EEO policy should be reinforced to all affected employees.  Note:  If one does not exist, it should be created, published and communicated to all employees.
The complainant and relevant employees should be interviewed.
All parties should be advised regarding the risks of retaliation.
A determination should be made and communicated to the complainant who should be advised regarding retaliation rights.
Appropriate remedial action should be taken and documented, including discipline against perpetrators if required.
At the completion of the investigation, a final communication to the work group reinforcing the company policy and announcing that the investigation is complete is recommended.  Privacy of the complainant and any employees receiving discipline should be respected.
Facts, findings and actions should be retained within an investigation file.
 The situation should be continually monitored for the ongoing future to ensure the situation has been corrected.
Do You Need Outside Help?
Often, organizations may need outside assistance with this process.  The Treyburn Human Resources Group would be glad to assist.  An ounce of prevention is always another good idea.  Regular effective training on sexual harassment is very important to minimize and hopefully avoid incidences completely.
In any case, a thorough, complete professional investigation will go a long way in building trust with your employees.  Employees are always looking for their employer to "Walk the Talk".